The Courage to Lead Youth Program (Ages: 13-15)
17aug(aug 17)7:00 pm21sep(sep 21)9:00 pmThe Courage to Lead Youth Program (Ages: 13-15)Cultivating courageous and facilitative leadership
Event Details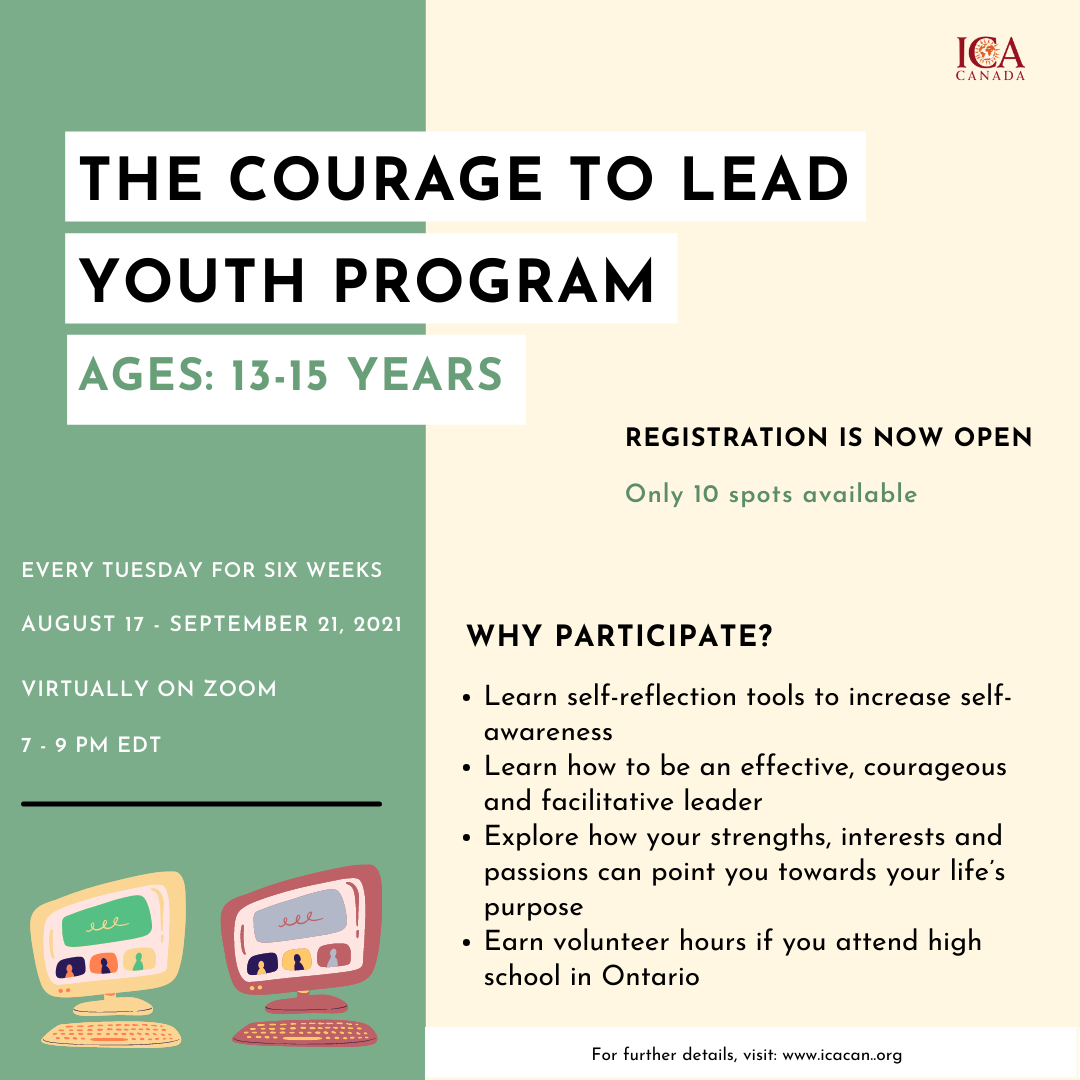 Description:
Are you between the ages of 13-15, and interested in exploring ideas about leadership and creating positive social change? ICA Canada is excited to launch a 6-week Courage to Lead Youth pilot program to support young people like you, along their leadership journey.
The Courage to Lead (CTL), a leadership book written by R. Brian Stanfield, has been shared with both adults and youth for over a decade. CTL creates space for deep conversations on courageous leadership in everyday life. This CTL youth program was designed to meet young people's unique leadership development needs, support them in developing life-long reflective practices in a safe, intentional space, and bolster self-confidence as they explore questions of identity, leadership, and meaning.
Questions we'll be exploring in the program include:
How can I be my authentic self in all situations?
How am I going to choose to live my life?
How can I make a positive difference?
What kind of leader am I or would I like to be?
Why participate in the Courage to Lead Program?
Build your confidence
Learn self-reflection tools to increase self-awareness
Learn how to be an effective, courageous and facilitative leader
Develop your sense of agency and learn how to make holistic/comprehensive decisions
Strengthen your approach to problem-solving
Explore how your strengths, interests and passions can point you towards your life's purpose
Connect with other participants interested in making a positive difference in their own communities
If you attend high school in Ontario, you could earn up to 6 hours of volunteer/community involvement by providing feedback on each session and helping us to shape future versions of the program. Those who complete the course could have an opportunity to earn more volunteer hours as a future course co-lead and/or as a member of the CTL Youth Advisory Committee.
What do you need to join?
Dedicated time to read the course companion guide before each session.
A willingness to give the takeaway leadership challenges a try between sessions.
An openness to sharing your personal perspective and experiences in online discussions with other participants.
An open mind and heart to hear from those who see things differently than you.
A willingness to provide thoughtful feedback and to share your brilliant ideas for making the course better.
*There is no cost to join*
When and Where?
The program will run virtually once a week every Tuesday for six weeks starting August 17 – September 21, 2021. | Time: 7 – 9 PM Eastern Time
If you are within the target group (13-15 years), parental/guardian consent will be required. A form will be sent to you after you register.
Please note: You do not need to purchase the Courage to Lead Book. A Course Companion guide has been created for this program, which will be sent to you after the first session.
Should you have any further questions, please do not hesitate to contact ICA Canada at ica@icacan.org
more
Time

August 17 (Tuesday) 7:00 pm - September 21 (Tuesday) 9:00 pm(GMT-04:00) View in my time
Organizer
The Canadian Institute of Cultural Affairs (ICA Canada) has a 40+ year history in developing the leadership capacity of individuals who are committed to positive social change. We do this through our Courage to Lead programming, tailored training and facilitation offered to non-profit organizations and community groups and through the development of knowledge resources.
ica@icacan.org
401 Richmond St. W., Suite 405, Toronto, ON. M5V 3A8